Trish Meyer, a native of Dublin, Ireland, enjoyed a variety of creative careers from musician to motion graphics designer and author, before falling under the printmaking spell. Trish employs a wide range of techniques including collagraph, lithography, mokulito and photo processes, with a blend of calligraphic marks and hi-tech digital imagery. More info…
The Architecture of Beauty
Gallery with a Cause at New Mexico Cancer Center
First Friday Opening Reception:  September 6, 6 – 8:30 pm 
I'm honored to have my art included in "The Architecture of Beauty – Works by prominent NM artists" at the NM Cancer Center's Gallery with a Cause in Albuquerque. This exhibition, curated by Regina Held, "showcases well-known and beloved New Mexico artists working in a variety of genres and media including weaving, digital painting, printmaking, painting, mixed media and photography. Several of them have received the prestigious Local Treasure award from the Albuquerque Art Business Association bestowed on them for their contributions to the Albuquerque art community."
Participating artists: Laura Balombini, Lois Bradley, Lyle H. Brown, Donna Loraine Contractor, Marilyn Drake, Chuck Gibbon, Roe LiBretto, Trish Meyer, Carol Ordogne, Marcia Rackstraw, Lyndia Radice, Karen Miranda Rivadeneira, John Saunders, Andrea J. Sharon, Susan Solari, Ivana Starcevic, Mike Stephens, Gale Sutton and Denise Weaver Ross.
Show run until November 22. 40% of proceeds benefit the NM Cancer Center Foundation. More details on their website.
Carborundum Photo Collagraph Workshop
Workshop at Remarque/New Grounds Print Workshop & Gallery, Albuquerque, NM
Dates: Saturday–Sunday, June 15–16, 2019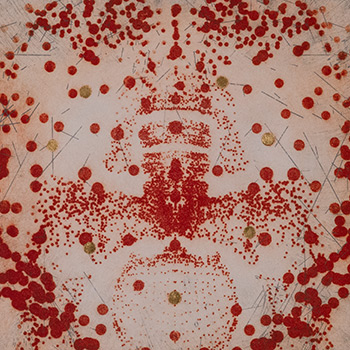 In this innovative workshop, you'll learn how to use digital images or drawings on polyester film to create a carborundum collagraph.