Trish Meyer, a native of Dublin, Ireland, enjoyed a variety of creative careers from musician to motion graphics designer and author, before falling under the printmaking spell. Trish employs a wide range of techniques including collagraph, lithography, mokulito and photo processes, with a blend of calligraphic marks and hi-tech digital imagery. More info…
6th Annual International Print Exhibition
Remarque/New Grounds Print Workshop, Albuquerque, NM
First Friday Opening Reception:  December 7, 5 – 8 pm 
My print The New Normal is included in the 6th Annual International Print Exhibition at Remarque/New Grounds Print Workshop in Nob Hill, Albuquerque. The show runs through January 2019. More details on their website.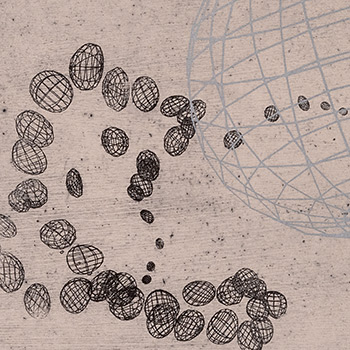 The New Normal (8x8) is a two-plate print (photo collagraph and carborundum collagraph). In it I reflect on the current political situation (the group of "crazytown" spheres) and look hopefully to the imposing, powerful, as-yet-to-be-fully-revealed silver sphere to save us… 
Carborundum Photo Collagraph Workshop
Workshop at Remarque/New Grounds Print Workshop & Gallery, Albuquerque, NM
Dates: Saturday–Sunday, June 15–16, 2019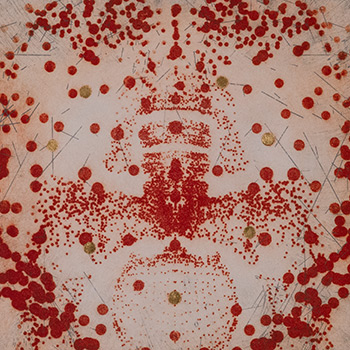 In this innovative workshop, you'll learn how to use digital images or drawings on polyester film to create a carborundum collagraph.